Yann Besson tells his apprenticeship at the National School of Lutherie in Mirecourt.
Mirecourt: the home of french violin making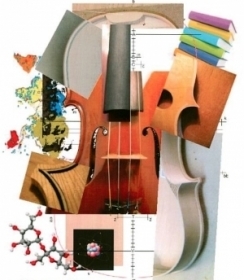 Mirecourt is a small town located close to Neufchateau, in the French region of Vosges.
Within the town is Jean-baptiste Vuillaume high school, which is home to the violin making school.
The first known instrument makers living in Mirecourt were in 1620. After the first world-war there were four main factories, 20 workshops and as many as 175 violin makers working there.
So not surprisingly, the main logo on Mirecourt's official website is a violin!
Yann Besson is a former student at the National Violin Making School of Mirecourt
At 14 years old, Yann Besson was told about the school for the first time. A year later he passed the entry exams and started his apprenticeship.
Yann Besson tells us about his experience whilst at Mirecourt
The violin making course was five years long, and our classes consisted of seven students.
We spent 24 hours a week at the bench making instruments and we also enjoyed studying music history and theory. We were taught by some great teachers who loved sharing their knowledge – our minds were opened and we felt very lucky to be there!
Whilst at Mirecourt I worked hard and left with a Professional Aptitude Degree (CAP), a violin making technical diploma (BT), an Art Trade Degree (DMA) and a love for making instruments.
After Mirecourt…
Yann Besson discovered that even after learning the solid violin making techniques of Mirecourt, he had to learn to make instruments that really worked.
At this point his instruments were far from satisfactory; both in terms of sound, quality and aesthetics.
Today Yann Besson believes that: Thanks to the desire for learning, and searching I acquired at school, I am getting closer every day to producing my ideal violins and violas.
The School of Mirecourt today
Every year, around ten students are chosen from a few hundred applicants, to have the opportunity of accessing the three year violin making course.
During the three years, students will acquire fundamental instrument making and restoring techniques. The school focuses mainly on studying violins, violas, cellos, double bass and viols.