Making the best instrument possible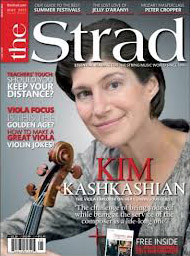 Five instruments makers, five violas
We asked five luthiers what they have learnt about viola making :
Yann Besson shares with us, a few technical aspects of his making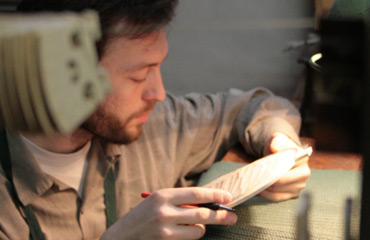 When I make a viola, my main considerations are :
size

playability

amplification and creating an instrument that has that dark, full viola sound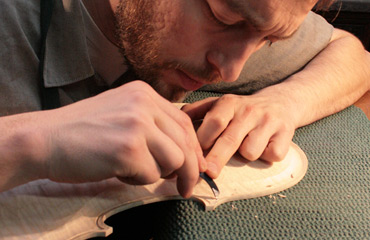 I favour low-density wood and a body length of 16 inches, because I can fit a playable vibrating string length of 367mm to instruments of this size.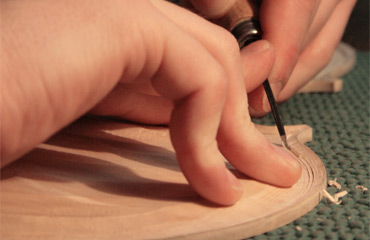 This is crucial to the end sound and for overall playing comfort.
The moulds I use were drawn by Geoffroy Mercier, their dimensions and proportions help to achieve the amplification and dark, rich tone I am looking for. The rib structures are quite deep ( 37-39mm), and the arching heights of the front and back are around 18,5-19mm. I finalise the arching with a block plane and this makes them quite full. The f- holes on my violas are straighter than the norm: the upper eyes are 50mm apart, and the lower eyes are 23mm from the edge.
To produce a good viola, you have to look at the centre of the instrument. I concentrate on the space between the f-holes – this is where arching and thicknesses are of greatest importance.
Good thicknesses for the front are 3mm in the middle section going down to 2,5mm in the upper and lower bouts. For the back, I find that a thickness of 5,5mm in the centre, going down to 2,5mm in the upper and lower bouts is ideal.
I have found that making the bass-bar more parallel to the centre join of the front improves the tone and amplification. I also use a high saddle and a high neck step to give a flatter string angle. On some violas, I also hollow out the tailpiece. These factors tend to produce instruments with good amplifying power: less bow pressure is needed to produce a good sound.
Another way of making a viola more comfortable to play is by making the neck as thin as possible.
This and a more rounded upper bout enable the player to go up the fingerboard more easily.
I can't say I have all the answers: I am still trying to find my ideal viola tone.